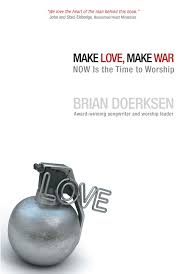 Brian Doerksen is Canadian and a longtime Vineyard worship leader, songwriter, and recording artist. He has received numerous awards, including Juno and Covenant awards in Canada and is considered to be a pioneer of modern worship in the Church worldwide. As a man in another church tradition said, "Brian was the first guy who gave us words to sing to God from our hearts, that were outside our hymnal."
Brian calls us to both love and to battle, to spread peace and wage spiritual warfare. We do this through how we live, how we serve Him, and how we protect and fight for what matters most. For Brian, music was his answer to this provocative call.
In this book he shares the stories and inspirations behind some of today's most acclaimed songs of worship, including "Come, Now is the Time to Worship," "Hallelujah (Your Love is Amazing)," and "Refiner's Fire." Brian shares rich truths and insights that informed twelve of his greatest songs, and offers special tips for aspiring songwriters. Readers will be encouraged to wage spiritual war and share His love through a life of radical worship.